celebrity, curls, hairstyles, long hair, red carpet, short hair, straight up
HAIR WATCH: CARA DELEVINGNE HAIR
March 10, 2017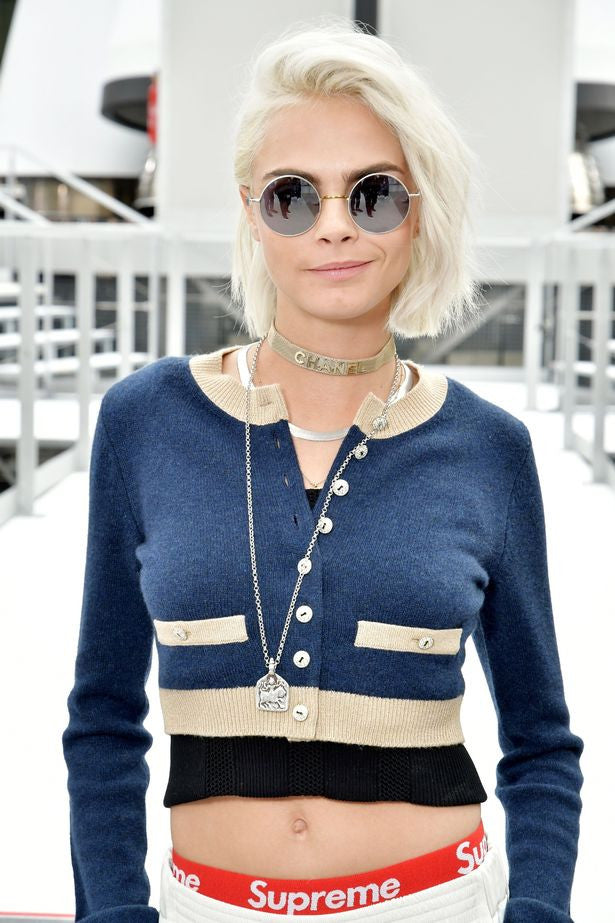 It doesn't matter if you know her from the catwalk, her bold brows, or movies, we're pretty sure that Cara Delevingne caught your attention with her unique looks and talent at some point. Even though she took a break from the runway, she's still slaying the fashion and beauty game with her quirky and unique looks.  These are our favorite Cara Delevingne hair transformations.
CARA DELEVINGNE HAIR WATCH
Recently, Delevingne dyed her hair icy gray and it got everyone's brows racing in the best way possible. She also kept the edgy vibe going by cutting it into a blunt bob. This look totally emphasizes her signature bold brows and piercing eyes! (If you want to try out Cara's new 'do, check our post about "AT-HOME HAIR COLOR TIPS THAT WON'T MAKE YOU GO BALD")
Even though her new 'do is our new #HAIRGOAL let's not forget the other Cara Delevinge hair looks that stole our hearts. Here are our top Cara Delevingne hairstyles:
Cara ditched her light hair- dark brows signature look and dyed her locks dark. We absolutely adore this look because it gave her a more fresh & preppy vibe that's totally different from other signature Cara Delevingne hair styles.  
Oh la la! These Old Hollywood curls totally shocked everyone, especially us! This sexy and sultry look totally showed everyone that she wasn't playing around! This fresh look is absolutely stunning, and lets take a minute to recognize how her hair matches her skin tone perfectly!
All business with a hint of glam! Do you really think that we can finish this list without mentioning her golden lob?! We really can't get over this beautiful sun-kissed look!
Braids for days! May it be the runway, red carpet or a photo shoot, Cara's always rocking a trendy braided hairstyle. This signature 'do keeps the vibe of her looks more young, unique and edgy.
We've seen her rock her different Cara Delevingne hair and styles from couture to casual and she owns every one of them, so it's no surprise that Cara's the fashion and beauty icon for a lot of people. We can't wait to see her next hair risk, we're sure that it's gonna be fab!
 If you like celeb hair looks and transformations, check out these posts:
Don't forget to follow us on INSTAGRAM, TWITTER and FACEBOOK for your daily dose of beauty, fashion, style and hair inspos. Stay foxy! Xx