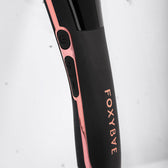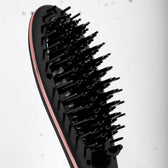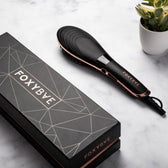 Straightening Hair Brush - UK
Description
Effortlessly bring your hair to life using the FoxyBae Hair Straightening Ceramic Tourmaline Brush. It doesn't matter if you have curls, waves, or frizz, this styling tool brushes them all away, leaving your hair straight and sleek without all the hassle. It's quick and easy to use, you'll be feeling foxy in no time.
How It Works

FoxyBae's ceramic and tourmaline technology heats purely and quickly from within, permeating hair with 20 times more negative ion therapy, which is scientifically proven to condition your hair while straightening, enhancing shine and eliminating frizz or flyaway strands. Heating up to a safe 185°C/365°F in mere seconds (max temp of 232°C/450°F) simply brush your hair to distribute heat and straighten without damaging your tresses in the process.
Details
Straighter + Shinier:
Tourmaline Technology produces negative ions that combine with infrared properties, delivering silkier, straighter locks in one smooth glide.

Moisture:
Ceramic tourmaline heats hair evenly from the inside out, locking in moisture and reducing frizz.
Faster Styling:
Temperature Control means quick styling, less damage and longer-lasting results.

Healthier Hair:
Nano Technology works to prevent bacterial growth for cleaner tresses.

Smooth Finish:
Negative Ion properties seals the cuticle, smoothing the hair's surface for major bounce and shine.
Ease of Use:
The 360° Swivel Cord is professional-length for flexibility in movement and worry-free styling.