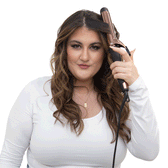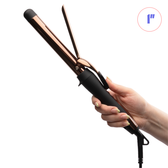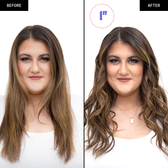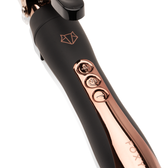 Rose Gold Titanium Spring Curler
Ready for an upgrade from traditional curling irons? Add some GLAM to your routine with our first-ever spring curlers (with a clip!). Our Glam Fam Rose Gold Spring Curling Irons feature salon-grade Rose Gold Titanium barrels that quickly and evenly distribute heat to create the longest lasting, smooth, and shiny curls yet. This is for you if you have thick, coarse, or stubborn-to-style hair! Enjoy quick and even heat distribution that helps you achieve maximum results in less time. Its rose gold titanium barrels seal in your hair's natural moisture and leaves a beautiful shine. Each Rose Gold Titanium Spring Curling Iron features an On/Off switch with a power indicator light, digital heat settings up to 430°F, cool tip, cool touch thumb press, an 8-ft tangle-free 360° swivel cord, and a built-in safety stand.
1 in / 25mm: defined, voluminous curls - good for all hair lengths
1.25 in / 32mm: big, beachy curls - good for shoulder length and longer hair
2 in / 50mm: loose, relaxed waves - good for longer hair



-

Rose Gold Titanium barrels for salon-grade results even on stubborn hair
-Digital heat settings up to 430°F for all hair types
-Cool Tip for safer styling


-

8-ft. long, 360° swivel cord for tangle-free movements




- Auto Shutoff for stress-free styling sessions






Once your hair is dried and all products are absorbed, divide hair into 1-2" sections. Hold the Glam Fam Rose Gold Titanium Spring Curling Iron in a vertical position. Open the clamp, take one section of hair, and place the ends over the barrel. Close the clamp and gently twirl the tool in the direction you want the curl. Hold in place for up to 10 seconds for tighter curls, and about 5 seconds for loose waves. Release clamp and let the curl cool to set.


Perfect Additional Match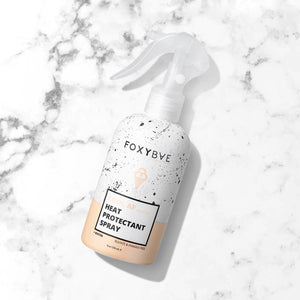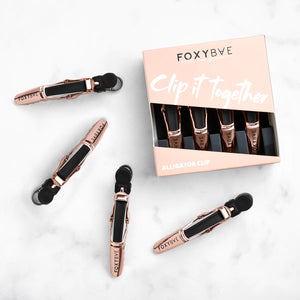 Clip It Together Rose Gold Alligator Clips
Learn more