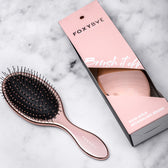 Rose Gold Detangling Brush
The key to strong and healthy hair has everything to do with how you brush it. Pulling at your hair when it's wet can cause it to snap, creating breakage and split ends. The FoxyBae Rose Gold Detangling Brush was developed to be used on wet or dry hair. The ultra-soft bristles glide through tangles effortlessly and gently loosen knots in fewer strokes, thereby minimizing pain and protecting against split ends and breakage. Not to mention, it comes in a stunning Rose Gold! So leave the knots for the girl scouts, not your hair. Happy styling!

The FoxyBae Brush is easy to use and can be used on hair whether it is wet or dry! To use the brush, simply divide your hair into sections and gently glide the brush through your tresses.