HOLOGRAPHIC HAIR - YASSS OR PASS?
May 10, 2017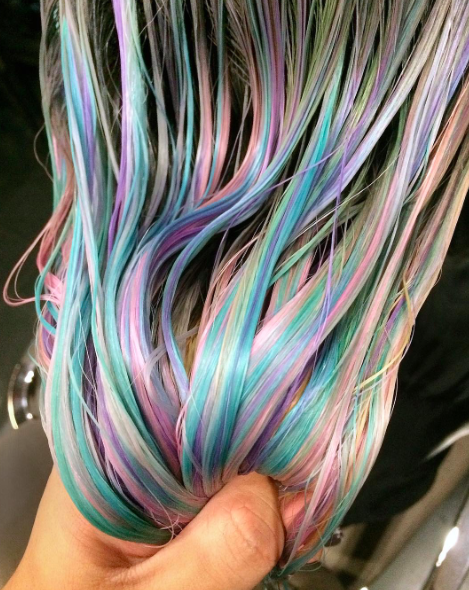 Raise your hand if you love anything whimsical and holographic! Us too!!! We've been seeing holographic makeup and fashion trends recently but what really caught our attention are the hair looks circling around social media. This new trend is totally an awesome mix between 90's and futuristic vibes. Here are our favorite takes on the holographic hair trend:

This fabulous braided faux hawk totally took this magical trend in a while 'nother level! The thin braid along the side totally accentuates the different colors used to get this look!
How is this even possible?! This Holographic Rainbow 'do looks absolutely breath taking; we can't even imagine the time and effort that was put into this! It was all worth it though! 
*swoon* This cool toned holo look is to die for!! We love how they only used colors like blue and purple to get this very futuristic hair color. Is it possible to fall in love with a hair color? We're pretty sure we're in looooove!
If fairies don't exist then explain THIS!!! There's absolutely no way that they achieved this hair color and style without magic… Please tell us your secrets!!!
This hair trend is majestic but we can't even begin to imagine how hard it is to achieve and maintain these looks! If you're planning to rock this trend, make sure that you go to a professional (or a trusted person) to help you out. Also, educate yourself about the damages and risks that come with bleaching and dyeing your hair before doing anything drastic and harsh to your beloved locks.
Want more hair trends? Check these posts out:
- FROM FRAPPE TO FAB: UNICORN FRAPPUCCINO- INSPIRED HAIR COLORS
- LEOPARD PRINT HAIR – YASSS OR PASS?
- GEODE HAIR IS THE NEWEST SPRING TREND
 Don't forget to follow us on INSTAGRAM, TWITTER, and FACEBOOK for your daily dose of beauty, fashion, style and hair inspos! STAY FOXY!