Short on Time? 10 Time-Saving Hair Hacks for Busy Gals!
July 16, 2023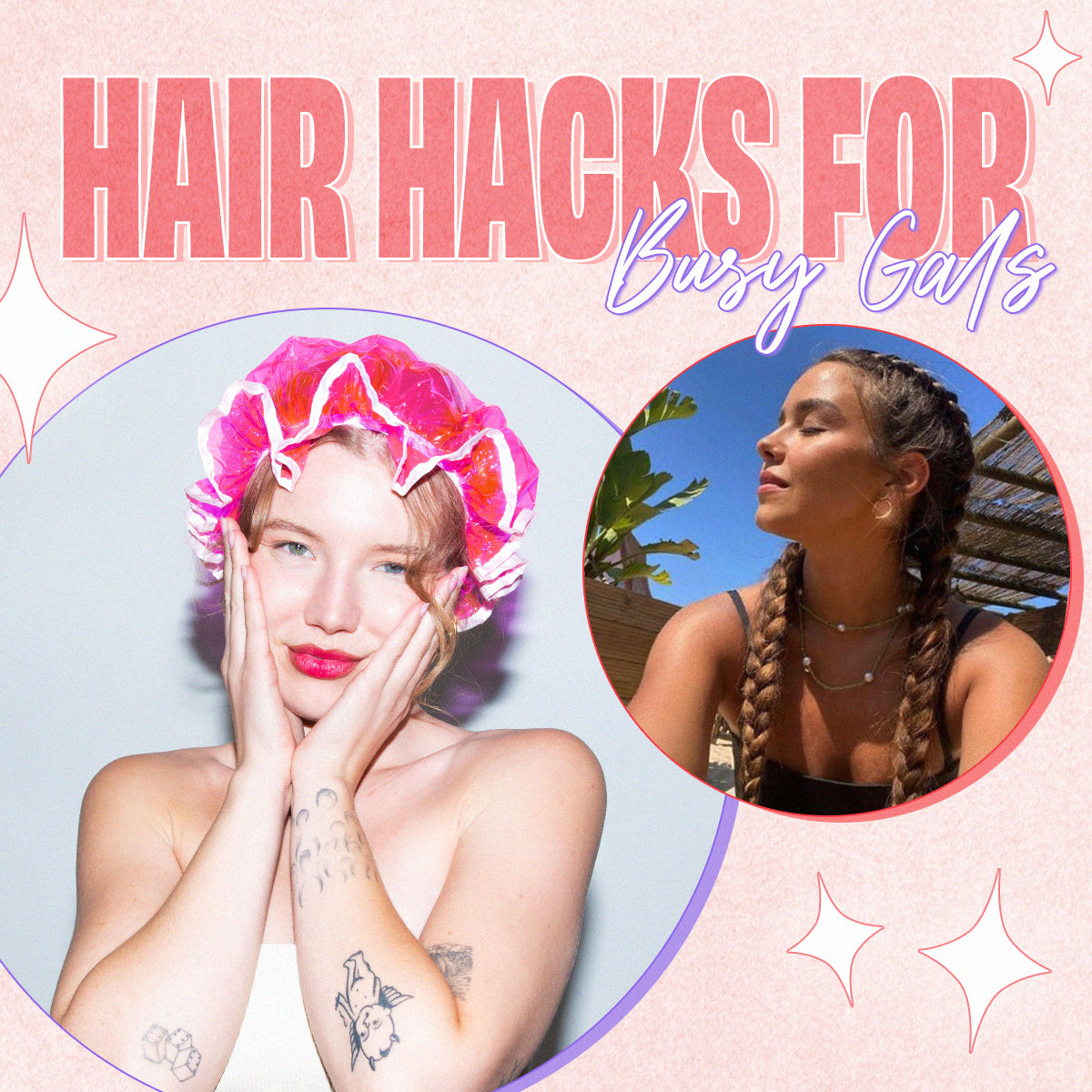 Welcome, fabulous ladies on the go! We know just how demanding life can be, juggling school, work, social engagements, and everything in between. With all that hustle and bustle, finding time for an elaborate hair routine can seem like an impossible task. But fear not, because at FoxyBae, we believe that every busy gal deserves to look and feel her best effortlessly.
We've gathered a treasure trove of hair hacks tailored specifically for you – the modern, multi-tasking mavens who are always on the move. These quick and easy hair hacks will have you looking flawless without breaking a sweat.
Hair Hack 1: Ponytail Curl
Getting ready to go out but only have less than 30 minutes? Seems impossible but we're here to help. Gather your hair into a normal ponytail, but of course using our Satin Scrunchies (they are more gentle than regular hair ties). Then curl the strands in your ponytail with our Rose Gold 25mm Curling Wand for a more voluminous look. Our curling wands come in either 19mm, 25mm, or 32mm barrels perfect for any occasion. Once all your strands are curled, release the scrunchie and you have gorgeous curls WITH extra time left over!
Hair Hack 2: Overnight Dry Shampoo
Let's normalize skipping hair wash days by using our trusty Dirty Gal Dry Shampoo. BUT with a twist! Instead of spraying the dry shampoo as you're getting ready for your day, spritz dry shampoo into your roots the night before and wear a shower or night cap on while sleeping. This will absorb excess oils and boost your hair's natural volume, making it look like you just got a blowout!
Hair Hack 3: Overnight Hair Slugging
Is your hair dry and damaged from all that summer heat? Here's another overnight hair hack you need to try. Replenish your locks by hair slugging! Yes you heard me. Slug your hair with a leave-in hair mask or conditioner! Try our 12-in-1 Daily Magic Leave In Hair Mask or our Flaminglow Leave In Conditioner. Wash your hair at night and apply product to the ends of your hair. For EXTRA moisture, sleep with the Shower Power Shower Cap on so that all the product soaks into your hair and really nourishes all night long. You'll wake up with an ultra soft head of hair and won't need to do much else in the morning!
Hair Hack 4: Heatless Waves
Our Foxybae Rose Gold Wavy Baby is a fan favorite, but what if you don't want to use a heat tool? No problem! This hair hack goes way back and you've probably done this before. Braid your hair the night before and voila you have natural, heatless mermaid waves just like that. Coat your hair with some 12-in-1 Daily Leave In Conditioner to manage the frizz and flyaways.
Hair Hack 5: Dryer Sheet Anti-Frizz Trick
Fight your frizzy hair problems using dryer sheets! Simply take a dryer sheet and rub it against your hair or attach the dryer sheet to your Rose Gold Paddle Brush and brush away. Dryer sheets eliminate static from your clothes and works the same way for your hair, making it easier to manage and taming those pesky flyaways. For extra control, apply the Smooth Sailing Anti-Frizz Finishing Cream.
Hair Hack 6: Satin Pillowcase
Another super easy and effective way to fight frizz is by sleeping on a Satin Pillowcase. Did you know traditional cotton pillow cases are very harsh and rough on our hair, causing those unwanted split ends. Sleep with our Satin Pillowcase and you won't ever go back! You'll wake up with having to do ZERO styling because of ZERO frizz.
HAIR HACK #7: WIRELESS AUTO CURLER
Perfect for all our Foxy gals on the go, this mobile gadget should be your holy grail. Our Wireless Auto Curler requires no plug, just a few hours to charge and it's good to go. It does all the hard work for you, curling your locks in seconds! You'll be SHOCKED at how easily it curls your hair. Lastly, just spritz some hairspray to hold your hairstyle in place all day long.
So no need to worry about squeezing in time for a salon appointment or spending more than 30 minutes to get ready for work/school! Try out these easy, breezy hair hacks with little to #NoFoxGiven.