blonde, hair care, hair hacks, quick tips
How to Keep Your Hair Blonde (Not Green!) This Summer
May 01, 2023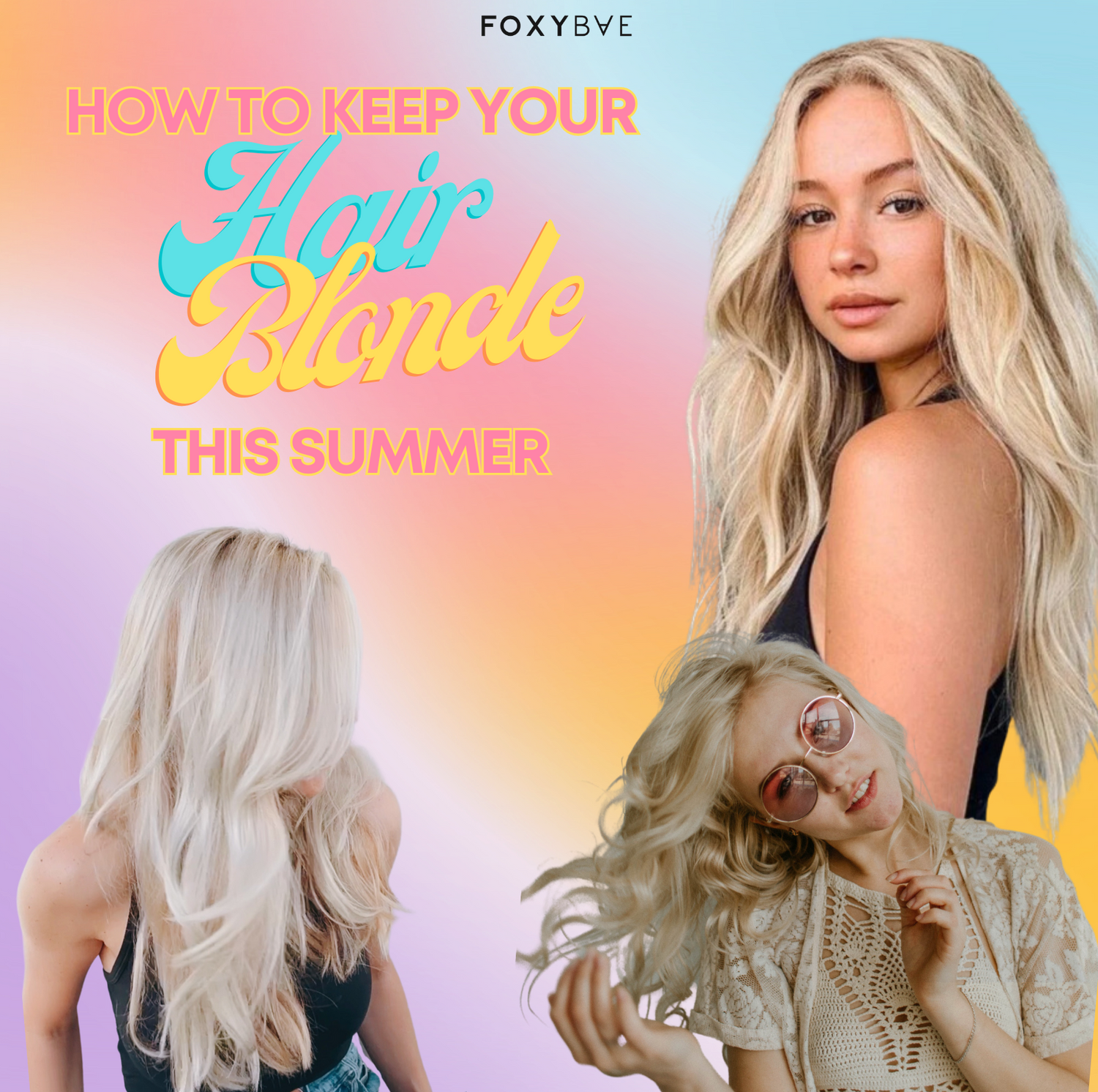 Hey, Blondies! Want to hit those epic pool parties this summer without stressing about your hair turning green from chlorine? Don't worry bae, we got you covered. It's common for blonde hair to turn a slight greenish color (especially towards the ends) after swimming in chlorine-based pools, but there are some tips and tricks to lessen the chances of it all turning a shade of green.
Here's How to Keep Your Blonde Hair From Turning Green
1. Wet Your Hair
Before diving in on a hot summer day, wet your hair! Chlorine is less prone to seep into wet strands versus dry ones so it can act as a protective layer. Pool water tends to cling onto dry hair more, making it easier for that yucky green color to appear. Wet your hair by hopping in the shower before or by using a purified bottle of water! Better yet, bring a spray bottle to the pool so you can conveniently spray your hair AND your body to keep cool.
2. Apply Leave-In Conditioner First
Using a leave-in conditioner takes protecting your hair a step further while also hydrating it. We recommend coating your hair with a nourishing product to act as a protection layer so pool water won't absorb as deeply. Not sure which one? We love tossing these individual Don't Hate, Hydrate masks into our totes to use before taking a dip!
3. Wash Your Hair ASAP
When the sun goes down and the pool party is over, wash your hair! Or at least rinse it out under the outdoor shower. Thoroughly shampoo and condition your hair and wash away all the clingy pool water. We recommend using our Always Sassy, Never Brassy Purple Shampoo and Conditioner made specifically for all you blonde baes who want to keep your hair cool-toned this summer. This set is not only an amazing toner, but a nourishing cleanser as well. For those who are diving into the pool daily, alternate between our purple set and our California Dreamin' Moisturizing Shampoo and Conditioner for extra hydration.
4. Keep Your Hair Healthy
Last, but certainly not least, maintain healthy blonde hair! Chlorine tends to stick to dry, damaged hair causing the most unhealthiest parts to turn that unwanted greenish color (ex: ends of your hair). Avoid this by using our Don't Hate, Hydrate Replenishing Hair Mask 1-2 times a week. We also recommend always using our Cool AF Heat Protectant + Biotin Spray before using any Foxybae hot tools.
From pool parties to tropical vacations, summer-time can make it extremely difficult for blondes to maintain their fresh-salon color. STAY FOXY with these tips and tricks, and make sure to follow our Instagram for more!