Pin-up Styles That Should be Brought Back this Fall
November 08, 2019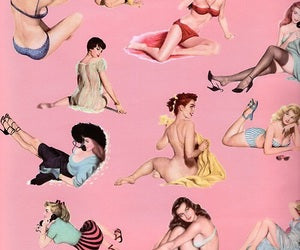 Vintage is always in style, but here at Foxybae, we think some love should be shown to pin-up girl fashion. Icons from the 50's and 60's left such a cultural impression that they continue to give us inspiration decades later. There is no better time to showcase your classy, pin up style wardrobe than in the fall.
CIGARETTE PANTS
While pants on women didn't really pick up as a trend until the 60's, as they were seen as "masculine", several icons, such as Audrey Hepburn and even sex symbol Marilyn Monroe, can be seen wearing pants on many occasions. A popular style of pants was called "cigarette pants", which referred to the flattering shape that would taper at the ankles.
A-LINE DRESSES
A-line dresses are another flattering style that is appropriate for almost any setting. An A-line dress can go from work, to the bar, to Thanksgiving dinner.
STOCKINGS
There's something about wearing sheer fabric that can make anyone feel like the sexiest person in the room. Not only are they good for covering up those wooly winter legs, but also look super cute under a skirt or dress.
SWING COATS
It's that time of the year when you can finally whip out those big, fashionable coats. Swing coats are an elegant style of coat that can class up any outfit. Perfect for those cold winter nights out on the town.
BANDANNA HAIR WRAPS
Not only can this be a really cute look, but it's also great for bad hair days, and more unique than a bun. There are also a ton of variations of the classic bandana hair wrap.
SWEETHEART NECKLINES
This neckline is not only sexy, but easy to wear with a skirt or pants for any occasion. This style is perfect for anyone that doesn't want to reveal too much cleavage but still show some skin.
BERETS
Yes, you can wear a beret if you're not from France. These cute little hats are already making a comeback, just as they did in the early 2000's. Paired with a turtleneck, a pencil skirt, and some hoop earrings, and you'll fulfill your childhood dream of looking like a Bratz doll.
CAT EYE GLASSES
These might make you look like an aunty if you pair them with the wrong outfit, but cateye sunglasses are all the rage. They create a flattering almond shape around your eyes and snatch your face, making you instantly look like a missing Hadid sister.
Pin-up girls were typically displayed as very sexy,so their great sense of fashion was often overlooked. Dare to try a few of these styles this week and see if you look like those old pictures of grandma. And don't forget that classic retro red lip and cat eye combo!