How to Refresh Your Curls in 10 Minutes
September 23, 2019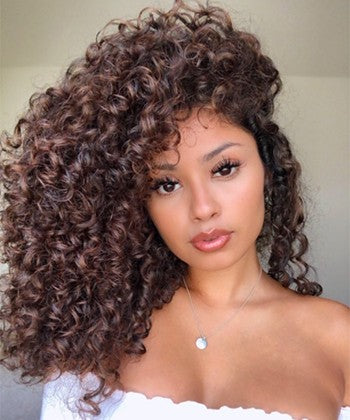 If you're a curly girl, you know the struggle of day old hair. Your shiny ringlets turn into limp noodles, the back of your hair is as flat as a board, and your ends are drier than your DMs after you post a picture of your boyfriend. Whether you use a bonnet, hair wrap, silk pillowcase, or a pineapple bun, it just never looks as good as it does after a deep condition and a comb out, but no one has time to do that every single day! Here's 5 tips to make sure those day old curls look picture perfect
1. MOISTURIZE, MOISTURIZE, MOISTURIZE!
One of the biggest problems curly girls face is dry hair. Curly hair needs a ton of moisture, especially if it's more porous. Using a spray bottle, spritz your hair very lightly with water. Then, using a generous amount of FoxyBae Flaminglow Leave-In Conditioner (because we all know a dime sized amount doesn't apply to us) gently apply all over your hair until slightly damp, making sure not to frizz your hair even more.
2. APPLY PRODUCT!
Lightly apply a product with hold such as hair gel or moose all throughout hair.
3. SCRUNCH!
Cup your hand at the bottom of your hair and bring your hair to your scalp. Press against your scalp while squeezing the hair in your hand. This technique helps your hair regain it's curl when it loses its shape due to the weight of your hair products.
4. BRAID!
If you have a looser curl pattern, putting your damp hair in a loose braid for 15 minutes can help ease the poof effect that a night of tossing and turning can have on your hair.
5. DRY!
Finally, either let your hair air dry, or use a Foxy Bae blowdryer with a defuser to set those refreshed curls in place. Make sure to flip your hair over when drying to get maximum volume!
Your hair should now be refreshed and ready to go! With these tips, there's no need to hide that hair under a hat anymore!