curls, hair care, hair trends, hairstyles, quick tips
Holla-Day Gift Guide
October 21, 2021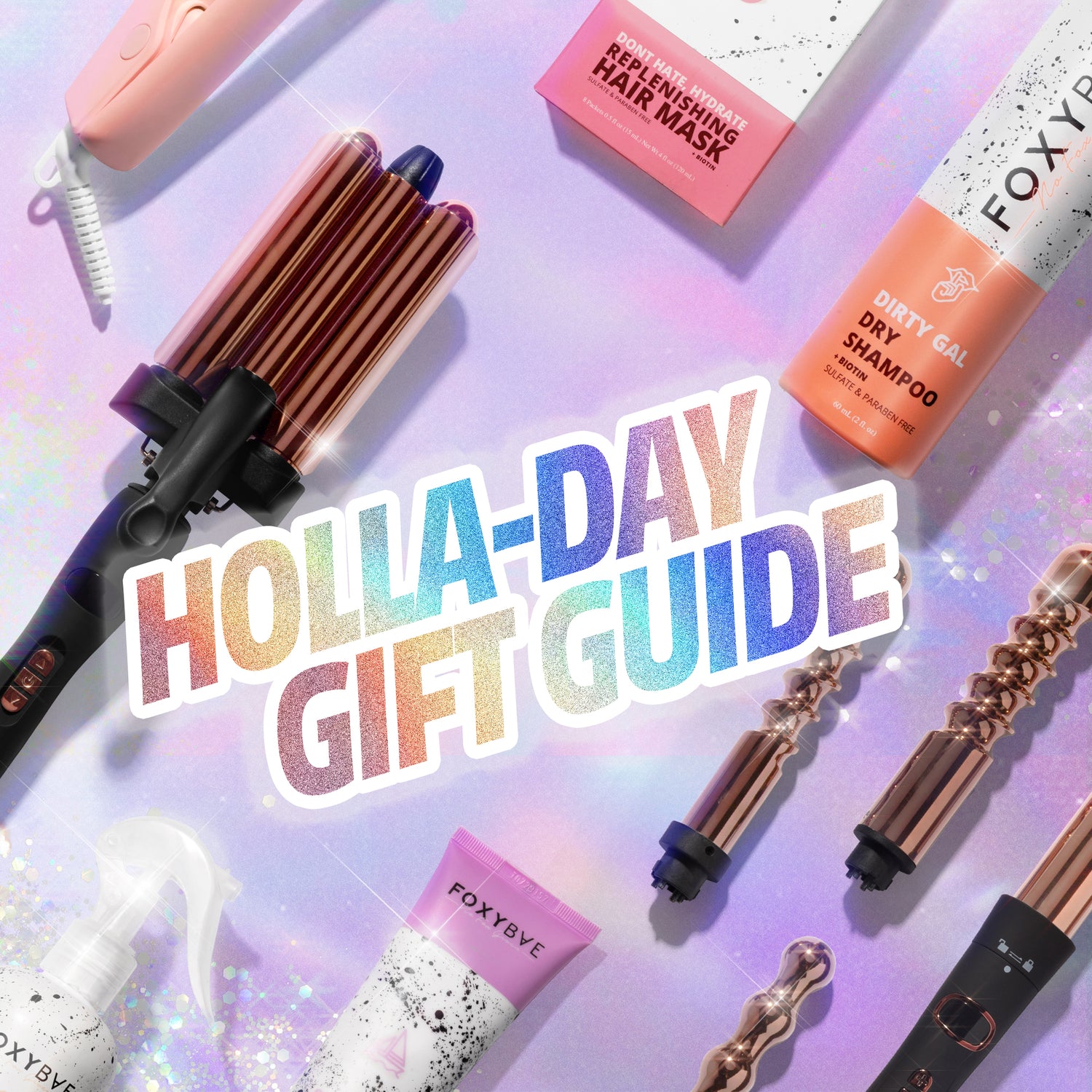 Happy (almost) Holiday Szn, Foxys! Every gal deserves to open something special during the holidays, even if they've been a little KNOTTY this year! Whether you are shopping for your bestie, your girlfriend, your mom, or yourself, Foxybae has you covered! SLEIGH this holiday season with this ULTIMATE gift guide:
All the Jingle Ladies:
Rose Gold 3-in-1 Curling Wand
With family gatherings, holiday parties and vacations right around the corner, your bestie NEEDS an all-in-1 tool to make getting glammed up a breeze. Our Rose Gold 3-in-1 Curling Wand comes with three interchangeable barrels so she can create ANY style she desires from silky glam waves to textured ringlets and everything in between! Even if she is attending an ugly sweater party this season, this tool will still have her looking like the FOXIEST gal there!!
The Classic Kit
It's going to be one HOT HOT HOLIDAY with this tool!! Our Classic Kit is a fan favorite, and will definitely be a favorite within your friend group, too! This holiday kit comes with our Baby Blush Flat Iron and 32mm Curling Wand, a heat protectant spray, AND a hair primer! No need to wrap this one, it's ready to be put under the tree!
Cool AF Heat Protector Spray
Friends don't let friends style their hair without heat protector! Add this bad boy to your list when shopping for your besties! Our Cool AF Heat Protector Spray will not only protect their hair from breakage, it will also make it grow faster and stronger because of the added ingredient, biotin!
For the One You Meet Under The Mistletoe:
Don't Hate, Hydrate Replenishing Hair Mask
We get it, shopping for your bae can be tricky. But nothing says "I love you" like gifting our Don't Hate, Hydrate Replenishing Hair Mask! You, out of all people, know how much your lady deserves a little "me time," so pour her a glass of wine, run her a bath, and let her get to maskin'!
Blowout Brush Kit
Our Baby Blush Blowout Brush Kit is SO cute, it will have her blushing!! Whether she has perfect curls, beachy waves, or fairly straight hair, this tool is a STAPLE for every woman! Made for thin or thick hair AND comes with a heat protectant and styling cream!

Baby Girl Statement Pin
It's her time to SHINE! Adding this "Babygirl" Statement Pin to her stocking will sure make you a winner! You know what they say… It's the little things that count ;)
Mrs. Clause Is Coming To Town:
Mini Marble Travel Kit
Everyone brace yourselves, mom is coming to town! Make her travels easy this holiday season with our Mini Marble Travel Kit! This cute little pack has everything she needs for her travels, including a mini curling wand, a mini flat iron, and a mini hair dryer! This gift will definitely put you on the top of her nice list ;)
Dirty Gal Dry Shampoo
Moms are usually so busy getting their kids (and husbands...) ready in the mornings, they barely ever have time for themselves. Make her morning routine faster & easier with our Dirty Gal Dry Shampoo. All she needs to do is wake, shake and spray!
Hair Repair Kit
Mom has always taken care of you, now it's time for you to take care of her! Our Hair Repair Kit includes the perfect duo: our Don't Hate, Hydrate Replenishing Hair Mask and our Flaminglow Leave In Cream Conditioner! This gift will be her favorite one under the tree!
Treat Yo'elf:
The Complete Hair Kit
With all this holiday shopping, it's difficult not to splurge a little bit on yourself… After all, you have been on the nice list all year, right!? Gift yourself this season with our I WANT IT ALL Complete Hair Kit! This tool has everything you need, all in one box! With our Baby Blush Blowout Brush, 32mm Curling Wand, Flat Iron AND a heat protectant spray, there isn't one hairstyle you can't achieve!
Rose Gold Detangling Brush
Even if you have been a little KNOTTY this year, your hair doesn't have to be! Our Rose Gold Detangling Brush is made with ultra-soft bristles that glide through tangles effortlessly. Gift yourself with this shiny new toy this holiday season, you (and your hair) deserve it bae!
Anti-Frizz Kit
Two best sellers in one? How could you say no! Our Anti-Frizz Kit includes our 12-in-1 Magic Daily Leave In Hair Mask and our Smooth Sailing Anti-Frizz Finishing Cream! This duo will combat fly-aways and frizz, while leaving you looking FOXY AS EVER at every holiBAE party!