fashion, festivals, hair trends, hairstyles
Fun & Flirty Festival Hairstyles to Try in 2023
April 06, 2023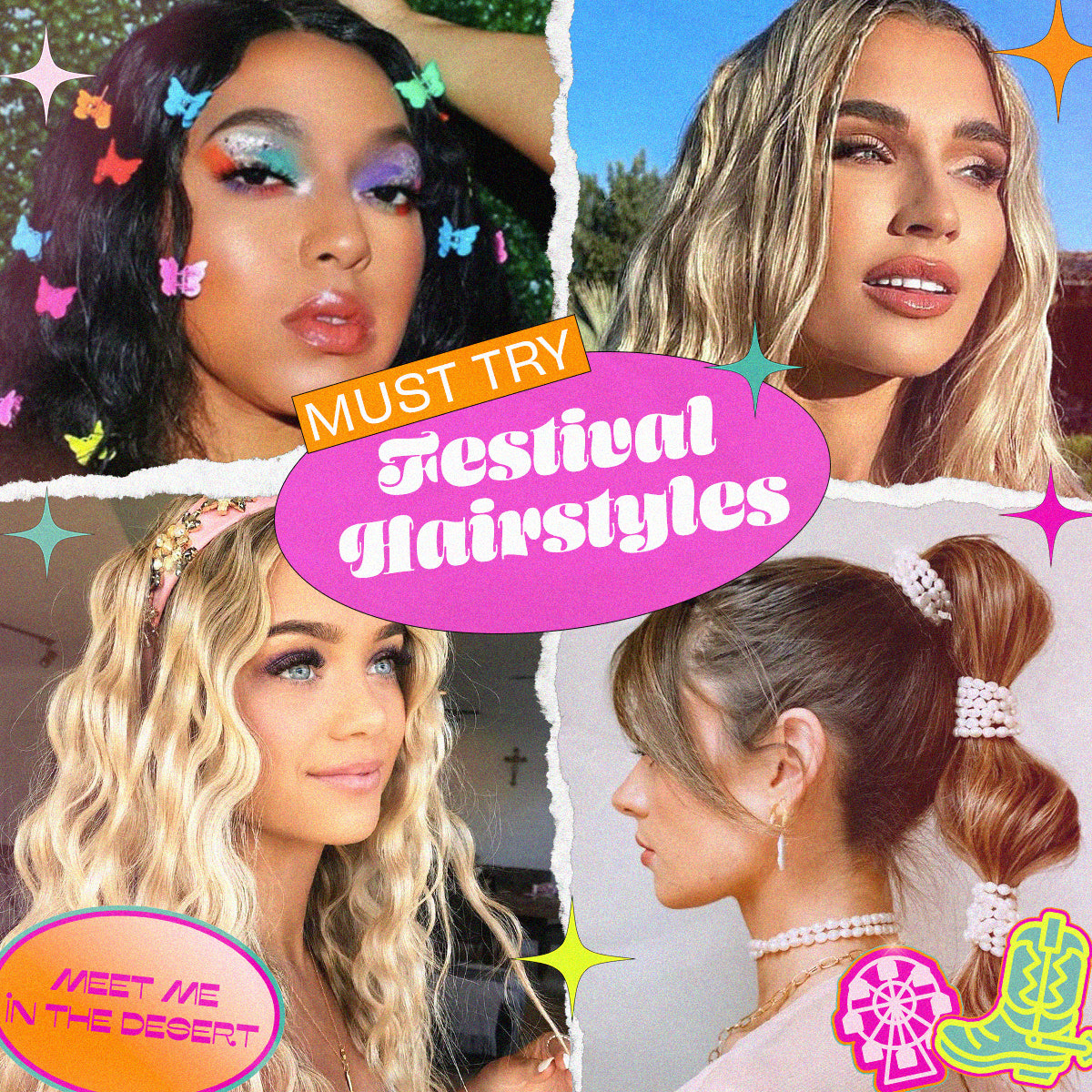 Music festival season is one of the most fun times of the year! But if you're anything like us, you're planning your look at the last minute. But no need t worry, we're here to share all of the best flirty festival hairstyles to try this year.
7 Festival Hairstyles (and How to Get Them!) 
1. Mermaid Waves 
If you're in a rush because you spent way too long doing your makeup, this hairstyle is for YOU! With our Rose Gold Wavy Baby Triple Waver, you can get the most beautiful mermaid waves in no time. This hairstyle is quick and easy, but leaves you looking SO GOOD.
2. Bubble Pigtails 
Bubble hair is *everything* this season and never fails to look cute! It might seem intimidating, but this hairstyle requires no hot tools! And it keeps your hair out of your face so you can dance freely all night long. All you need are our Big Tease Volumizing Hairspray for extra depth and hold, some elastic bands, and the Smooth Sailing Anti-Frizz Finishing Cream to take care of those little flyaways. 
3. Butterfly Accessories 
Y2K hair is the ultimate trend so why not make an appearance with a little throwback? This hairstyle is an easy one because all you really need are some elastics, butterfly clips, and if you want to add some extra spice to this look you can totally use our Rose Gold 32mm Curling Wand for some bounce.
4. Braided Pieces 
Braids are always a fun way to elevate a look and you can go big or small! Start off by using our Baby Blush Wavy Baby for some gorgeous mermaid waves. Remember to use the Cool AF Heat Protectant+Biotin for extra protection. Then braid a few strands of hair on each side of your head. To finish it off, you can either add some colorful elastics in between the braids or some hair beads.
5. Slicked Back Pony
Okay so it's Day 3 of the festival and your hair has gone through it but you still want to look like you tried. Spray some of our
Dirty Gal Dry Shampoo
all in your roots to absorb any oil. Then add some
Beach Please Sea Salt Texturizing Spray
all over for some extra style. To finish it off, tie all your hair back into a low ponytail for that sleek look. 
6. Classic Loose Curls
One can never go wrong with a classic curled hairstyle. Did you know that you can achieve this look with not one but TWO of our hot tools?! Our Rose Gold Flat Iron is great for a straight hair-do but can also double as a hair curler! And it gets better. Our No Strings Attached Wireless Auto Curler is ESSENTIAL if you don't have access to a plug outlet on festival campgrounds. Both tools create such beautiful curls!
7. Hair Glitter & Gems
Want to make people really turn heads at the festival? Add glitter to your hair for that extra *pop*. A trend we're obsessed with is adding adhesive gems, rhinestones, and pearls. Apply our Flex On 'Em Flexible Hold Hairspray to keep your hairstyle locked in all day long.
Tag us in your hairstyles so we can see what you've come up with!