Everything You Need to Know About Our Curling Wands
June 10, 2019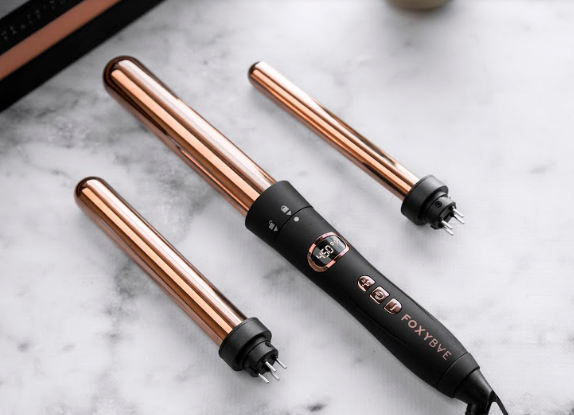 Welcome to the wonderful world of FoxyBae's curling wands. Whether you're a pro or brand new to the world of curling wands, we want to give you the knowledge you need to pick the right tool and live your bets hair life. Below are some of the most common questions we get regarding our curling wands and styling hair with curling wands. If you have any other questions please feel free to get in touch with us and we'll happily answer them :)
What is the difference between tourmaline and titanium?
Tourmaline is a gentle stone that is easy on your hair. It is best suited for everyday use on fine to normal hair. In comparison, titanium is a more heavy duty material suited for coarse, hard to curl hair and professionals. Our titanium products all have digital temperature control however, so that even if your hair is thin or color treated, you can still lower the heat setting to minimize any damage. Both tourmaline and ceramic employ negative ion technology to seal in your hair's natural moisture and help to smooth and style each strand.
What size barrel should I get for my hair length?
This depends on what style you're going for. We put together this guide on what you can expect your hair to look like depending on the barrel size you choose.
How do I choose the right temperature for my hair type?
Always start off with a lower temperature and work your way up as you figure out the ideal temperature that works for your hair. Generally, you will want to use 180 - 300 for fine, fragile or damaged hair, 300-350 for normal hair and 350 - 400 for thick, coarse or extra curly hair.
How do I get my curls to last?
Before curling
If your hair is hard to curl, you should add a bit of dry shampoo into your hair before styling to give it a bit of grip.
While curling
Pin your curls with a bobby pin or drop curls into your hand and squeeze each one until cool then drop them. Do not brush the curls out or finger through them until your hair has completely cooled, brushing them while they're still hot may cause them to fall out sooner if your hair does not hold curls well. Another tip is to curl smaller sections of hair, about half an inch sections of hair would be ideal.
After curling
Add texturizing spray and a flexible hairspray in an UPWARD motion. A lot of people spray product down on to the hair, which can actually weigh down the hair and cause the curls to fall.
How long will my curls last?
If you take care of your curls, they should last at least two days but depending on your hair type and they can last up to 4 days. This is entirely dependent on many factors: hair type, length, products, environmental conditions, curl size, etc.