12-in-1 custom formulation, hair care
Get To Know Our 12-in-1 Custom Formula
March 10, 2023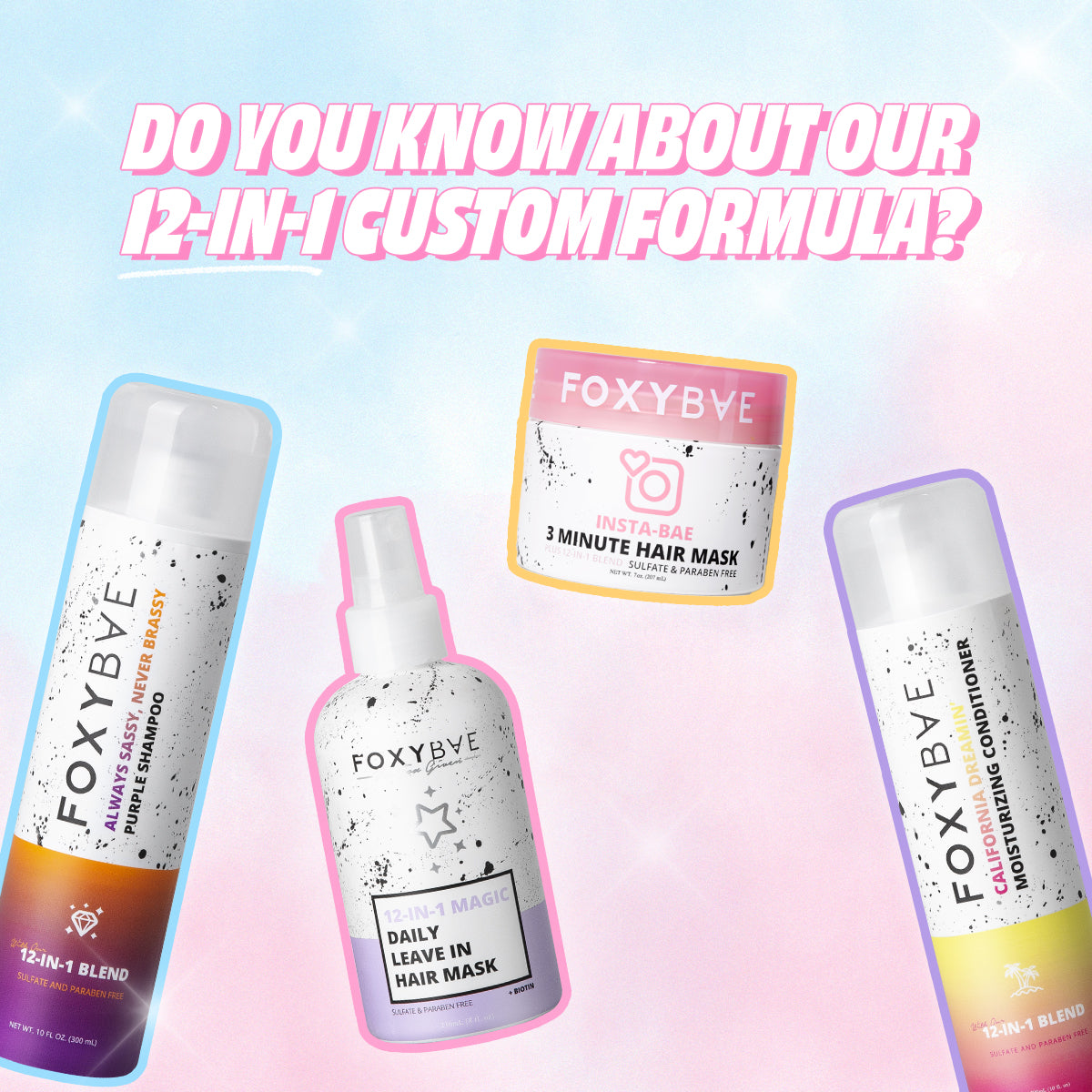 They say 2 is better than 1… but what about 12?! Foxybae's custom formula is made with just that —12 of the most luxurious ingredients from around the world that repair and deeply nourish your hair. They're designed to make your hair go from sad to strong AF (As Foxy😉) in NO Time!
Summer vacay mode is coming to a close and we're here to help you bounce back from all the summer heat damage. This also means getting back into our daily routines, making our 12-in-1 formulated hair care products the perfect staples for your everyday hair regimen.
Here's Why You'll Obsess Over Foxybae's 12-in-1 Custom Formulation
Just like ALL Foxy Hair Care, our 12-in-1 formula is also free of Sulfates and Parabens, making it safe for all hair types. Yep, even those of you with color-treated strands! Plus, all of our products are cruelty-free, vegan, and made in the U.S. Why wouldn't you want to incorporate all these pros into your hair care routine?!
Here are some of our team's fave Foxybae 12-in-1 products for every hair type:
If your hair is dry or damaged, try:
California Dreaming Moisturizing Shampoo/Conditioner restores dry and damaged hair, overall renewing your hair's moisture barrier.This is a great shampoo for all hair types.
If your hair is constantly frizzy, try:
Maliboo Smooth Anti-Frizz Shampoo/Conditioner is best for those with hair that is easily prone to frizz or if your hair is sensitive to humidity. It is best for those with thick and coarser hair, which will refine your strands and will make it easier to manage.
If your hair needs some volume, try:
Bae Area Bounce Volumizing Shampoo/Conditioner adds all the volume and bounce you need! This is great for those with finer and flatter hair.
If your hair is

~blonde~

, try:
Always Sassy, Never Brassy Purple Shampoo/Conditioner is for the colored blonde baes. This will keep your hair color so fresh and cool in between those salon visits.
If your hair needs a moisture boost, try:
12-in-1 Magic Daily Leave In Hair Mask nourishes, moisturizes, and strengthens hair. Perfect for when your hair needs a little extra TLC. We're not lying when we say it's magic! It's not your average hair mask that needs to be rinsed out and can actually be left in throughout the day so that your hair receives all the extra hydrating and repairing benefits all day long!
If your hair could use some extra shine, try:
Insta Bae 3 Minute Hair Mask is our extra deep nourishing treatment mask. After cleansing your hair with shampoo, go ahead and apply some of this hair mask, and then rinse. No need for conditioner afterward, as this mask will give your hair that INSTANT shine and softness!
And just like that, there's something for everyone in our foundational collection! You have a whole set of new and nourishing products that will leave your hair the healthiest it has ever been. Whoever said routines are boring needs our 12-in-1 hair care in their life😉
Get your hands on our 12-in-1 collection now!