Easy Last Minute Halloween Costumes
September 28, 2020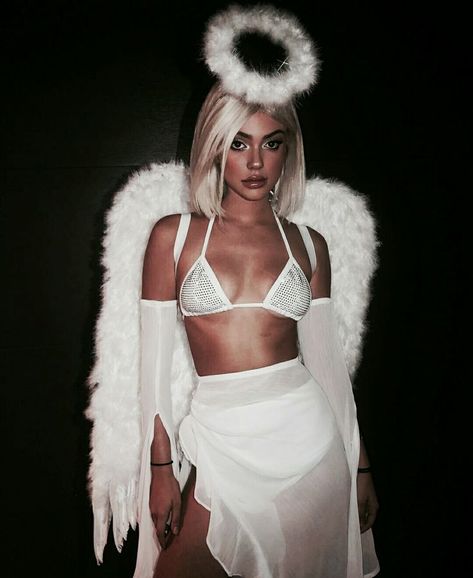 LAST MINUTE HALLOWEEN COSTUMES
Halloween season snuck up on you again? Same here, sis! These easy, last minute Halloween costume ideas are perfect for those of us who don't have a lot of time to do our spooky shopping! You can still SLAY that Halloween party without breaking the bank!
MERMAID
A mermaid costume is a cute and classic look that will have you turning heads wherever you go! All you'll need is a bedazzled bra and some reflective shorts or skirt! You can even choose to DIY your own bra if you want to get crafty with it! Finish off your under-the-sea look with the Wavy Baby Triple Waver to give your hair that extra beachy feel! Don't forget to finish off with the Beach, Please Sea Salt Texturizing Spray to complete your look! You were MERMAID for this, babe!
ALIEN
Want an out of this world costume this year? We've got you covered! All you'll need for this super easy look is a reflective top and bottom in the color of your choice! An easy hairstyle to pair with this costume is SPACE BUNS. The name says it all! Prep your hair with some Dirty Gal Dry Shampoo to give your hair some texture and make it easier to style. Spray into your roots and work it into the rest of your hair with your fingers. Once your hair is prepped and ready, section off your hair and start twisting! Twist your hair into an updo and secure with a hair tie and bobby pins, then repeat on the other side! You are looking ASTRONOMICAL, sweetie!
DEVIL
WE LOVE A DEVIL IN RED. All you'll need for this devilish look is a red dress and devil horns…yup that's it! Take your look to the next level using the Rose Gold Pearl Curling Wand to give your hair those natural, bouncy curls that will have people doing a double take! Don't forget the classic red lip to give you sinner vibes (; Who doesn't love a bad girl, right?
ANGEL
Hey, angel (; This costume is quick, easy, and affordable! All you'll need is a white dress, some angel wings, and a halo! To give you that Victoria Secret Angel feel, we recommend using the Rose Gold Blowout Dryer Brush to give you the blowout of your dreams! Simply prep your hair with a heat protectant spray and blow away!
HIPPIE
Achieve peace, love, and happiness with this SUPER easy halloween look. All you'll need is a tie dye t-shirt dress, a flower headband, and some circle sunglasses! For our extra artsy babes, you can even tie dye your own t-shirt dress! To finish off this look, style your hair with the Rose Gold 32mm Curling Wand to give your hair those big, bouncy curls that will cascade down and help you stay trippy, little hippie (;