Don't Get Tricked When There Are Treats!
October 17, 2022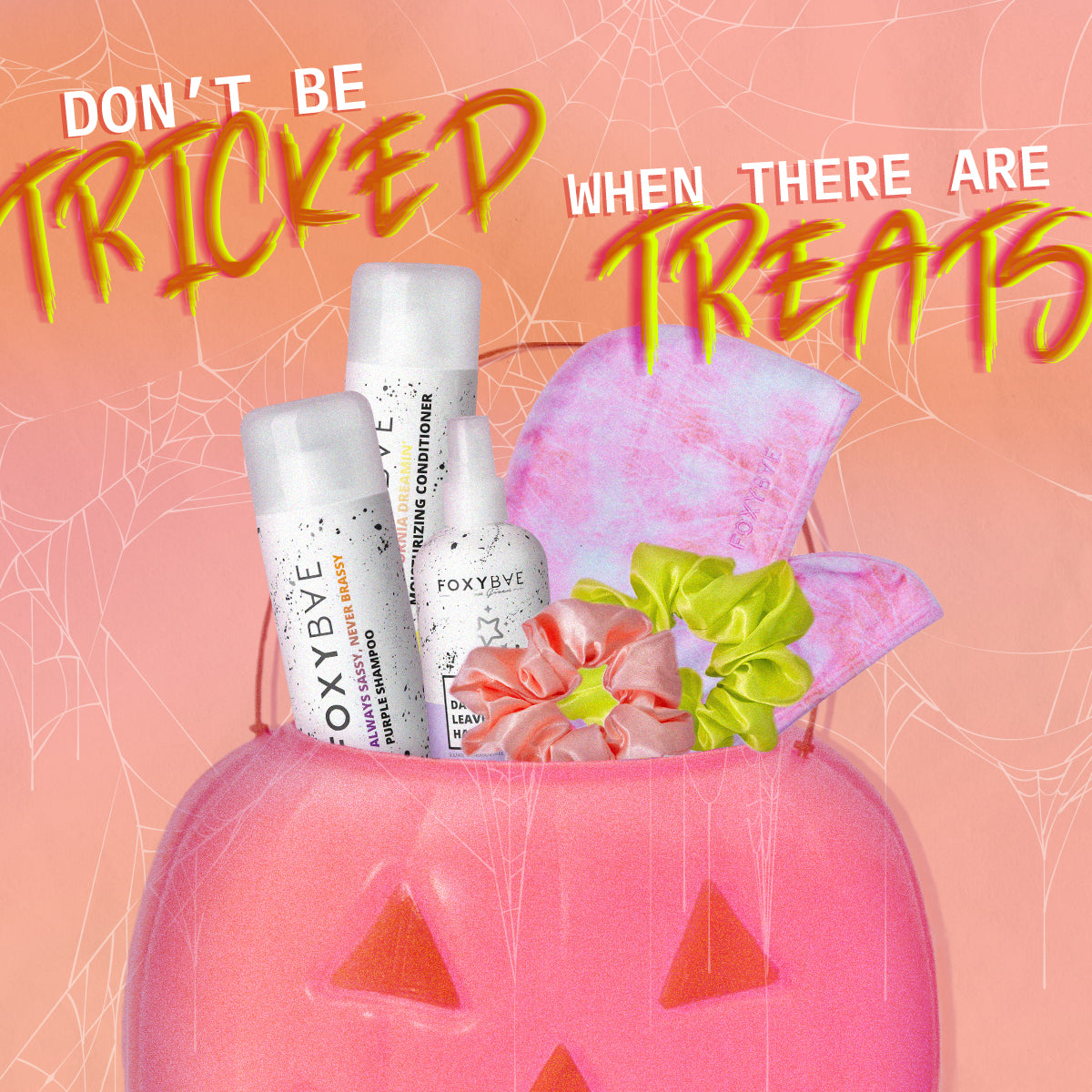 In a world full of spooky hair mistakes and treacherous tricks, FoxyBae has some awesome treats for you! Taking care of your hair is as important as any other self care act and we have a few tips you can use to make sure you're not getting tricked into a bad hair routine! 
SULFATES
Don't get tricked into thinking that if your shampoo doesn't foam, it must mean your hair isn't getting cleaned. Sulfates are a cost effective ingredient found in various shampoos known to get your hair squeaky clean, but at what cost? Sulfates are harsh chemicals known to strip away your natural hair oils causing dry, dull, and breakage prone hair which is as scary as it gets!
PARABENS 
Parabens make us want to scream with terror! Though the chemical is quoted to be safe for cosmetic use, there have been various traces of parabens being linked to hormone imbalance, reproductive complications, and even certain forms of cancer cells within the body. Though these effects aren't guaranteed to happen to every person who uses it, sometimes it's better to be safe than sorry. 

As creepy as those hair facts may be, FoxyBae has a treat for you! Our extensive shampoo and conditioner line are all sulfate & paraben free. They also include our magic potion mix of our 12-in-1 blend that includes various beneficial oils, butters, vitamins, and biotin to super boost your hair. We never want our Foxy Baes to stress about the health of their hair or body when using our products!
For years, the gals have been tricked into using hair accessories that are damaging to your beautiful tresses. One of the main culprits are your average hair tie elastics and rubber bands. Though they do the job of securing your hair, the potential breakage and hair loss is never worth it! Instead opt into using the FoxyBae Hold Up Scrunchie Pack or the Hotline Springs Hair Ties for a long lasting hold without the harm or headaches! 
Avoid a Nightmare on Hair St when you dry your hair. We have been tricked into thinking drying our hair with a regular towel is the best way to go but we hate to break it to you (no pun intended) that using a normal towel is way to dry and harsh on your hair. Drying with a towel can cause hair breakage and excessive frizz. Instead try out the FoxyBae Ride or Dry MicroFiber Towel made with 100% Microfiber to avoid any scary hair days. 
Whew! As scary as these hair mistakes are, you never have to fear using FoxyBae!  Treat yourself to a hair routine that gives you healthy hair that lasts far beyond spooky season!