90's Hairstyle Guide
September 23, 2020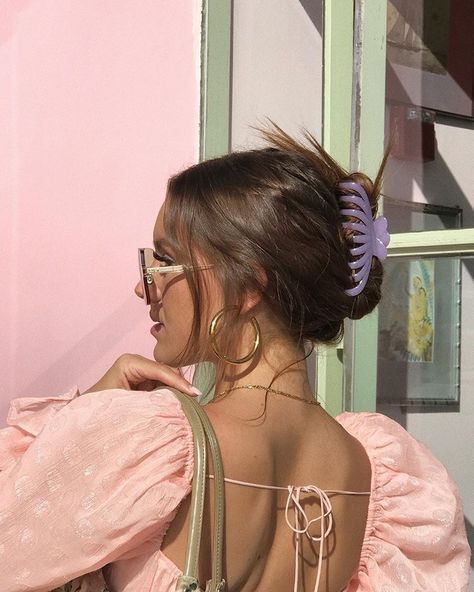 BACK TO THE 90'S
We love that some of the most iconic styles of the 90's are back and better than ever! If you've missed those 90's hair trends, you're not alone! We have a list of gorgeous and easy hairstyles that will take you back in time.
CLASSIC CLIP UPDO
This style is a staple 90's look and can be recreated in MINUTES! This is the perfect model-off-duty hairstyle that is both quick and easy -- and we love it quick and easy (; All you'll need to recreate this look is a large claw clip. Prep your hair with some Dirty Gal Dry Shampoo to give it some extra volume and texture. Gather your hair into a low ponytail and start twisting! Twist all the way through and flip your hair up against your head. Clip your twisted hair against your head and VOILA you have a perfect 90's updo. For an extra messy look, pull out some front pieces of your hair to frame your face and give you that woke-up-flawless look.
BRAIDED BANGS
This hairstyle is so cute and just screams 90's baby! Start by spraying your hair thoroughly with heat protectant spray to give your hair an extra layer of protection. Using the White Marble Rose Gold Flat Iron, straighten all your hair to give you that extra sleek look. After straightening, section off two small front pieces of your hair and braid away! Secure both braids with a small elastic, and you're instantly transported back to the 90's. YOU LOOK SO GOOD, LOVE!
SIDE BANGS PONYTAIL
We'll never get over this classic 90's updo. Its sleek and sexy vibe makes this style perfect for any event. Recreate this look by spraying the Beach, Please Sea Salt Texturizing Spray generously throughout your hair. Using a comb, part your hair on whichever side you'd prefer and brush your hair over. Section off a chunk of your front hair and tie it with an elastic to save for later. Gather the rest of your hair into a high ponytail and secure with an elastic. Take your front section and bobby pin it to the back of your head to give you a sweeping-side-bang look. Finish off this hairstyle by using a flat iron to straighten your hair, but don't forget to flip the ends of your hair in towards your face! You're red-carpet ready in minutes!
BIG BOUNCY BLOWOUT
Who doesn't love a good blowout (; We can't believe how easy this style is to achieve! To get started, protect your hair from heat damage with the Cool AF Heat Protectant Spray and use a detangling brush to disperse the product throughout your hair. Section your hair into 3 or 4 sections and use the Rose Gold Blowout Dryer Brush to give you a salon blowout from home! This classic 90's look will never go out of style, so you can wear your hair like this all year round!