12 Nights of Holidates
December 01, 2021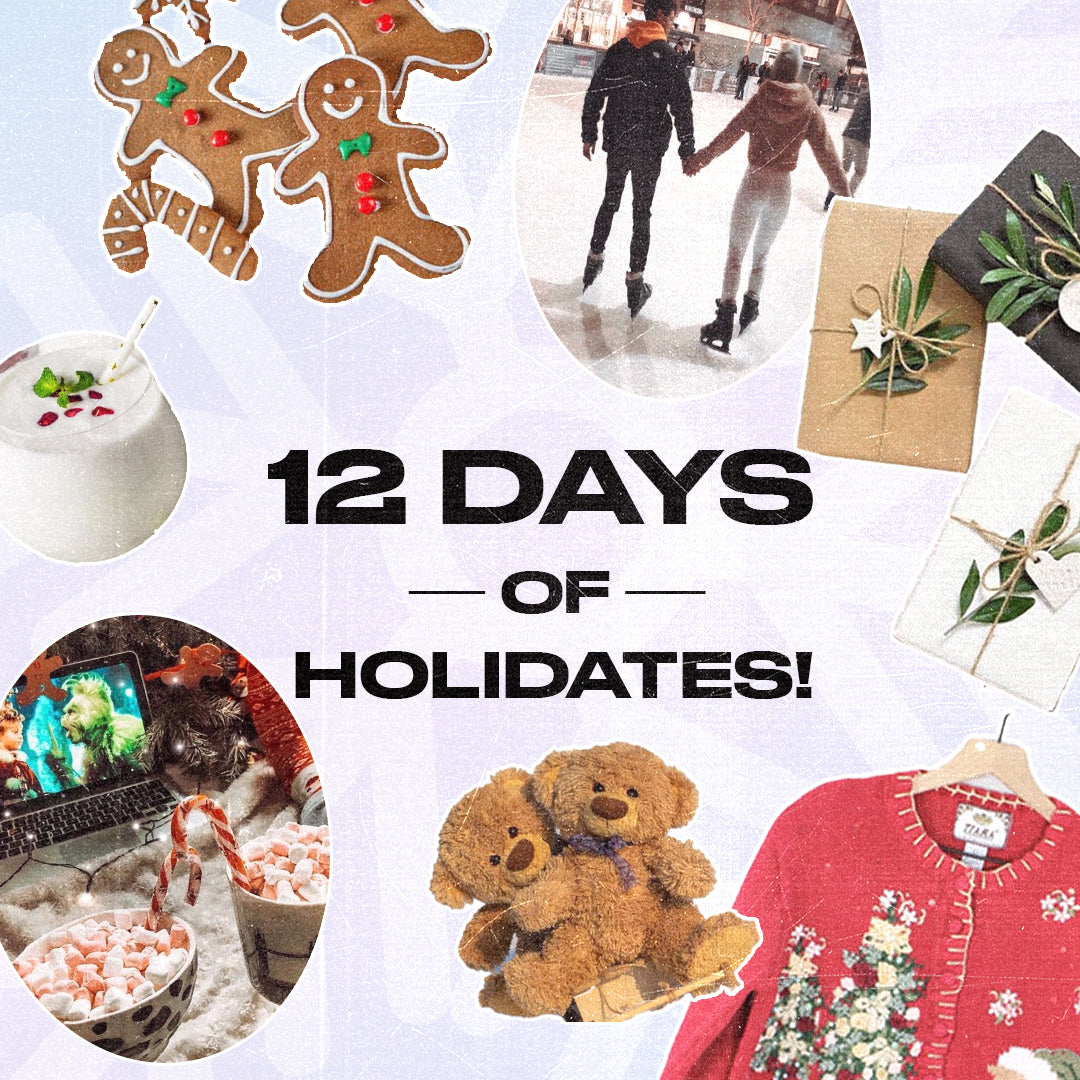 The Holiday season is one of the most romantic times of the year and spending quality time with your loved ones is a must! Whether or not you are boo'd up, these 12 Nights of Holidates can be spent with anyone you cherish! So grab your boyfriend, girlfriend, bestie, brother, mom or daughter and start this holiday season right with this ultimate date night guide!!
1. Holiday Movie Marathon
Let's start out with a classic… I mean, you can't go wrong with a movie night! If you're one of those couples who struggle agreeing on what show or movie to watch every night, we've got you covered! Thankfully, there are about a million (and counting) Christmas movies to choose from, so you are bound to find at least one movie you can agree on! Here's a list of Foxybae's favorite Holiday Films:
Elf (2003)
How The Grinch Stole Christmas (2000)
A Christmas Story (1983)
The Santa Clause (1994)Fred Clause (2007)

White Christmas

(1954)

The Christmas Chronicles

(2018

Home Alone (1990)

Frosty The Snowman (1969)

Rudolph the Red Nosed Reindeer (1964)

A Bad Moms Christmas (2017)

The Nightmare Before Christmas (1993)
2. Christmas Light Show
Almost every town or city has a Christmas light show or a neighborhood that has the best Christmas light decorations! Bundle up and take a walk down Christmas lane (but don't forget your Hot Toddy!) Not only is this romantic AF, but definitely a date to remember!
3. Hot Cocoa Bar
Some nights we go out and hit every bar in town, and other nights we just want to sit by the fireplace and drink hot cocoa! Get cozy this holiday season with a DIY hot cocoa bar! Here are some ingredient ideas to pick up from the store for this oh so cute date night idea: 
Hot Cocoa Packets

Mini Marshmallows

Candy Canes

Toffee Bits

Whipped Cream

Chocolate Syrup

Caramel Syrup

Pirouette Cookies

Peppermint Schnapps

Chocolate Chips

Cinnamon

Matching Christmas Mugs
4. Night Sledding/Tubing 
We've all gone sledding during the day… but how many of us have gone during the night time!? Luckily, there are many ski resorts offering night sledding with LED lights and live DJ's this winter season! Whether or not you're a winter person, sledding is a universally enjoyable activity for all ages! For those who live in California (or those who are looking for a winter getaway), check out this Disco Tubing located in Lake Tahoe!
5. Cookie Decorating Contest
Christmas isn't Christmas without baking cookies! Whether you're using a family recipe or using store bought dough (shhh… don't worry bestie, we won't tell), having a cookie decorating contest is always a fun and easy way to spend quality time with your loved ones! After all, a little competition never hurt nobody! 
6. Take Holiday Photos
If you're anything like us, then you're always down for a photoshoot! I mean.. Who doesn't love getting their picture taken with loved ones!? The great thing about taking pictures during the Holiday season is that there are so many beautiful locations to choose from! The snowy woods, in front of your Christmas tree, downtown where all the decorations are, etc! These photos can be used to update your Instagram profile, to create Holiday cards, or to keep for memories!
7. Go Ice Skating
There's nothing more romantic than ice skating in the midst of winter. Even if you don't know how to ice skate, at least you'll have your significant other there to hold your hand and glide you through it. We can't think of a better way to get a little extra attention from your boo this season ;)
8. Decorate Your Christmas Tree
We can all agree that this is one of our favorite childhood memories! Listening to holiday music while the fireplace is crackling and decorating your Christmas tree with ornaments that you have collected throughout the years is definitely top tier. Christmas tree decorating is a perfect activity to engage in for those who are introducing their new boo to the family! 
9. Volunteer for a Toy Drive
It is important to remember the true meaning of Christmas and to give back to your community! Volunteering at a toy drive is not only a super cute date, but a rewarding experience! Volunteering will make you and your partner grateful for each other and all of the things that you have :)
10. Attend An Ugly Sweater Party
We can't be the only ones that have this on their Holiday bucket list! Search through your grandma's old sweater collection or hit up the nearest Spencer's and get sweaters for you and your significant other that will have you both nominated for "ugliest sweaters" at the party! For some, the holiday season can be stressful. Attending a party as such can be the perfect time for both of you to unwind and embrace the magical season!
11. Wrap Gifts

This season is about giving and being grateful for what you have. Wrapping gifts is a great way to spend quality time together during the holidays. Make it romantic! Cook a nice Christmas dinner together, pour yourselves a glass of wine (or two), and look up unique ways to wrap gifts! Head to TikTok for some of the best inspo and most creative ideas to wrap gifts!
12. Create Your Own Christmas Cocktails

We know you've been waiting for this one (arguably our favorite date night idea)! We didn't think Christmas could get any better, then we discovered Christmas cocktails! Whether you're a tequila, vodka, champagne, whiskey, red wine or a virgin kind of gal, there's definitely a recipe out there for you! Here are some of Foxybae's favorite Christmas cocktails to recreate:
Holiday Mai Tai

Mulled Wine

Eggnog Cocktail

Candy Cane Cocktail

Mistletoe Martini

Holiday Sangria

Cranberry Kringle Cocktail

Hot Toddy

Pumpkin Spice White Russian

Warm Bourbon Cider

Hot Buttered Rum

Spiced Hot Cocoa
Follow our Insta and TikTok for more Holiday inspo this season!!