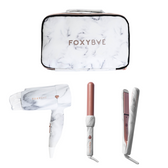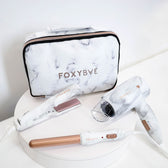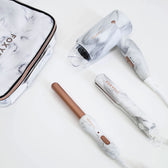 Mini Marble Travel Kit • Wand + Flat Iron + Dryer
CURLING WAND
Taking a fab vacay but don't want to lug around all your hair tools? We hear you girl! That's why we've made the miniature version of your favorite Foxybae Curling Iron to take with you on all your wild adventures! Our mini 19mm travel curler is made of Rose Gold Tourmaline which allows your hair to shine, stay healthy and prolong it's curls even while being on-the-go!
FLAT IRON
Wherever you're headed, you don't want to go there with bad hair! Travel with our mini Rose Gold Flat Iron made of uniquely formulated Tourmaline plates to add shine and sleekness to your look. Perfect for you traveling babes or for touch ups! Whether you're carrying it in your suitcase or your purse, our Mini Flat Iron has you covered for every adventure!
HAIR DRYER
*Dryer in the kit will not work in countries that 220V outlets, even when used with a US or Universal adapter.
Travel in style without the fear of lighting your hair on fire with one of those half broken, connected to the wall, raggedy hotel blow dryers! Our travel size dryer is tiny but mighty AF! Not only is it compact but it packs a punch with 3 different speeds and extra sass. Spend more time looking like Beyonce at The Louvre and less like Jay Z after Lemonade dropped.
Perfect Additional Match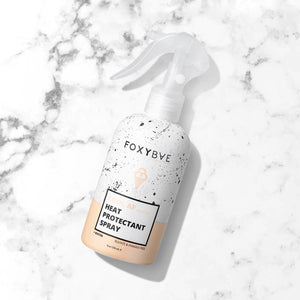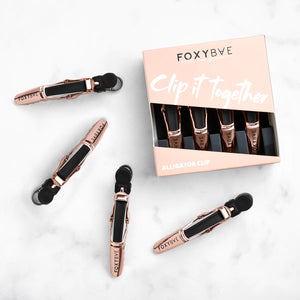 Clip It Together Rose Gold Alligator Clips
Learn more